Libros de texto amazing
Libros de Alumno en formato papel y 100% digital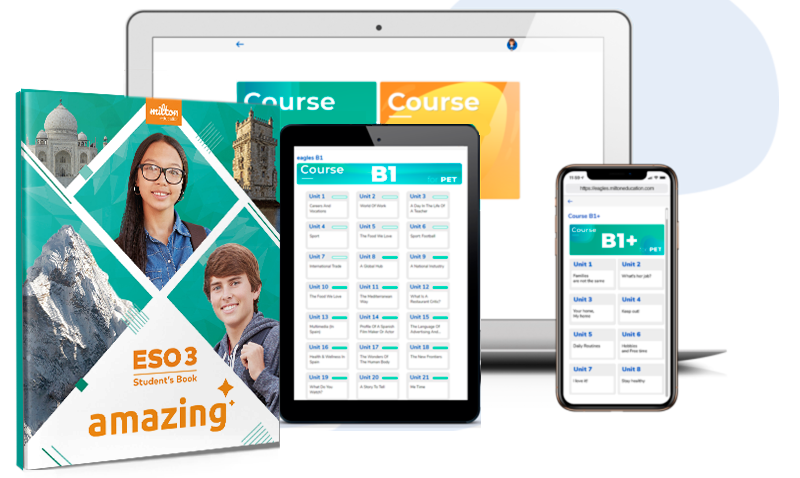 Full course curriculum in 6 levels (ESO 1 to Bachillerato 2) with 500+ exercises per book
8 units per year covering the full LOMLOE curriculum
Perfect for schools teaching English 4/5+ sessions per week
Flexible programming for High schools teaching
Digital exercises allow students to practise in a fun and engaging way and let teachers track progress seamlessly
Biblioteca de lecturas
El mejor plan lector digital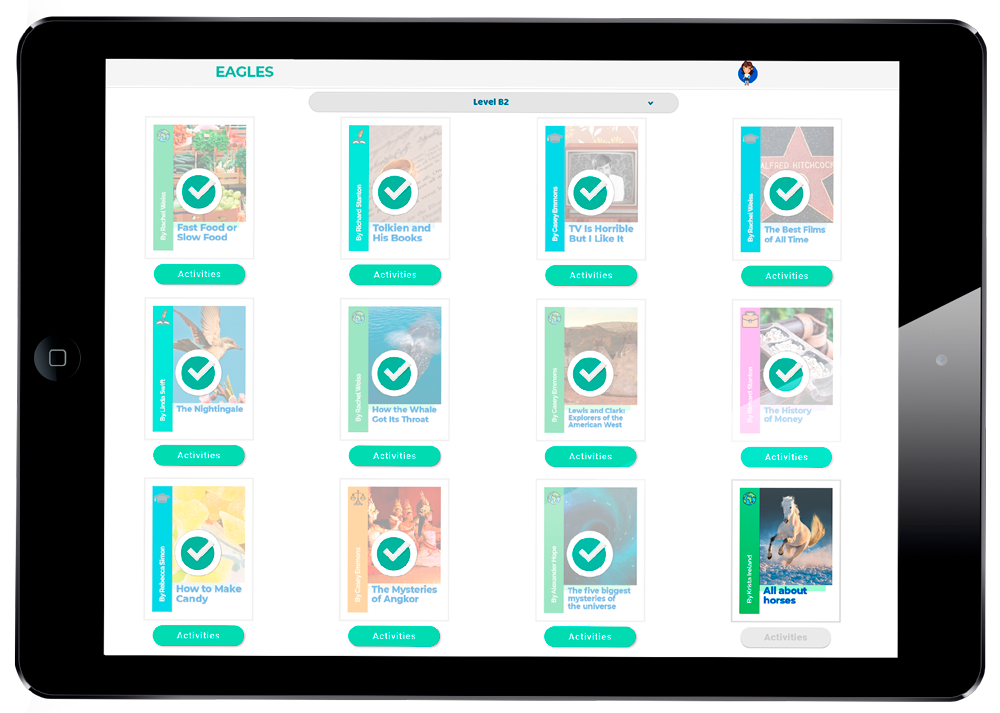 300+ audiobooks and 200+ videos organised in 10 levels, to engage your students in reading and listening in English
Each reading includes audio so students can practise both reading and listening comprehension.
Readings include multiple up-to-date topics aligned with students' interests.
A complete set of 5 exercises after each reading helps the student improve language skills (comprehension, language use and writing)
60 original unabridged excerpts from the classics of English literature
Uso en el aula y en casa:
100% of the materials are optimised for the Digital Board and student devices (laptop or tablet). Full print version to work in the classroom if necessary.
Students have an individual license to practise at home on any device (laptop, tablet or smartphone)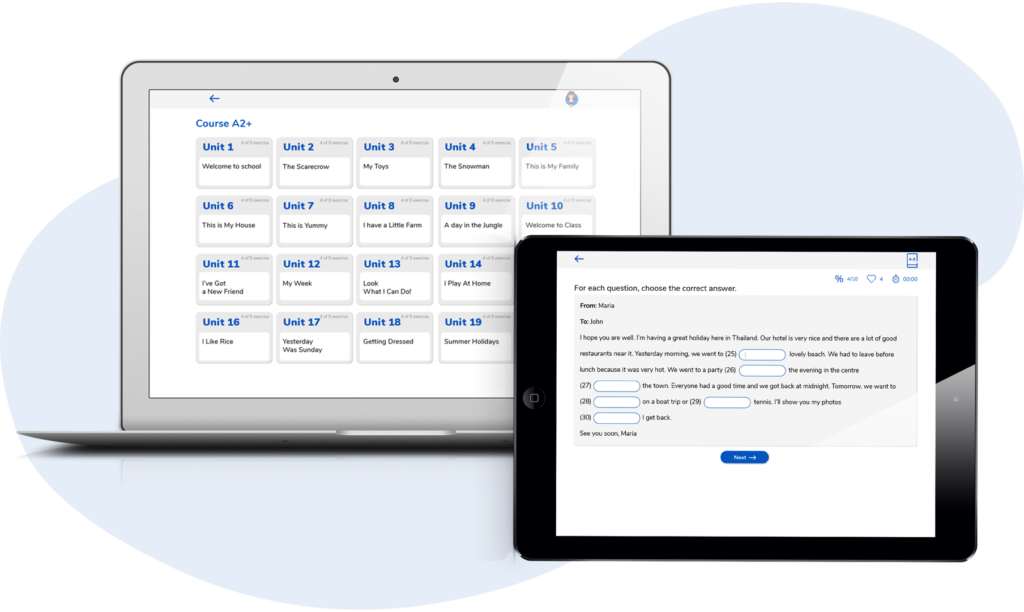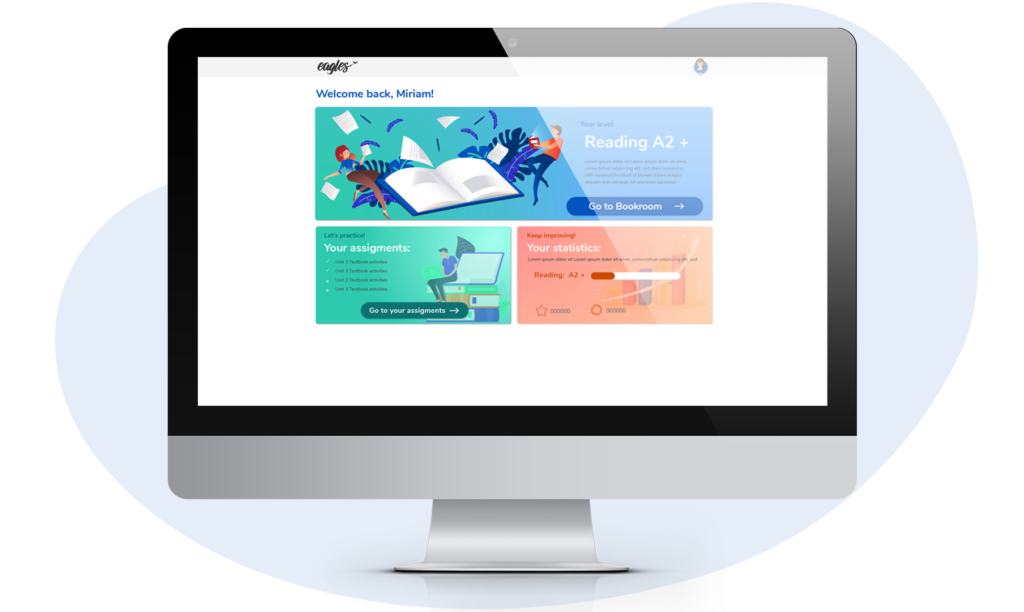 Productos modulares que se adaptan a cada alumno
2 components that you can use together or stand-alone: Coursebook and Reading platform.
Use it as your main ELT material or as an extension of your current method
Create different groups in your class and assign the right level to each group
A course that adapts to each student level
100+ exercises covering 30 vocabulary topics
120+ activities and 16 grammar lessons videos
200+ digital exercises covering all 4 skills
80 reading exercises
40 listening exercises
40 individual record‐yourself speaking tasks
16 speaking activities
30 writing tasks
300+ Kahoot‐like Classgames
3 full Cambridge exams
Student activity easy for the teacher to track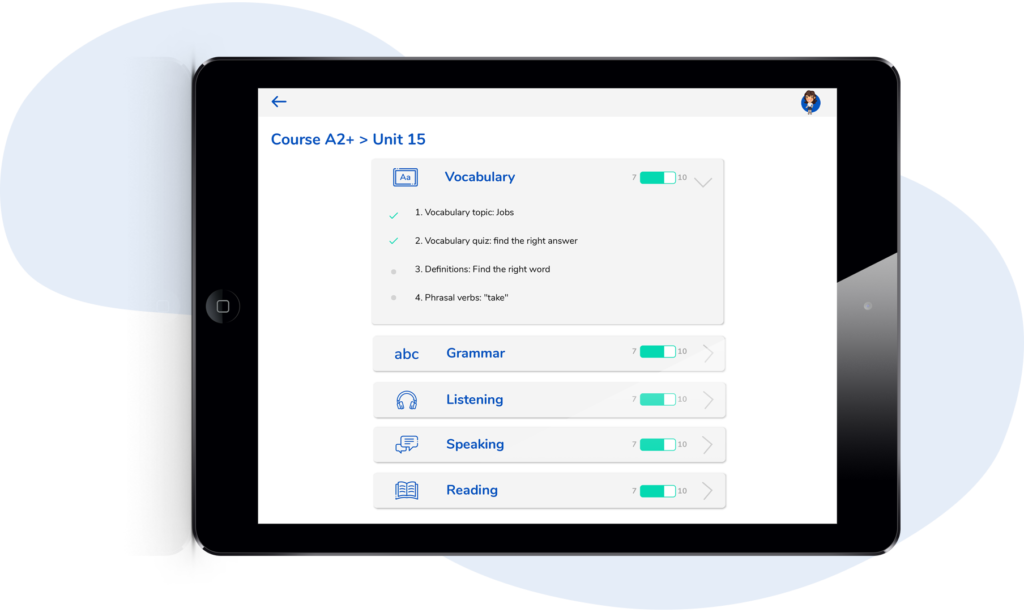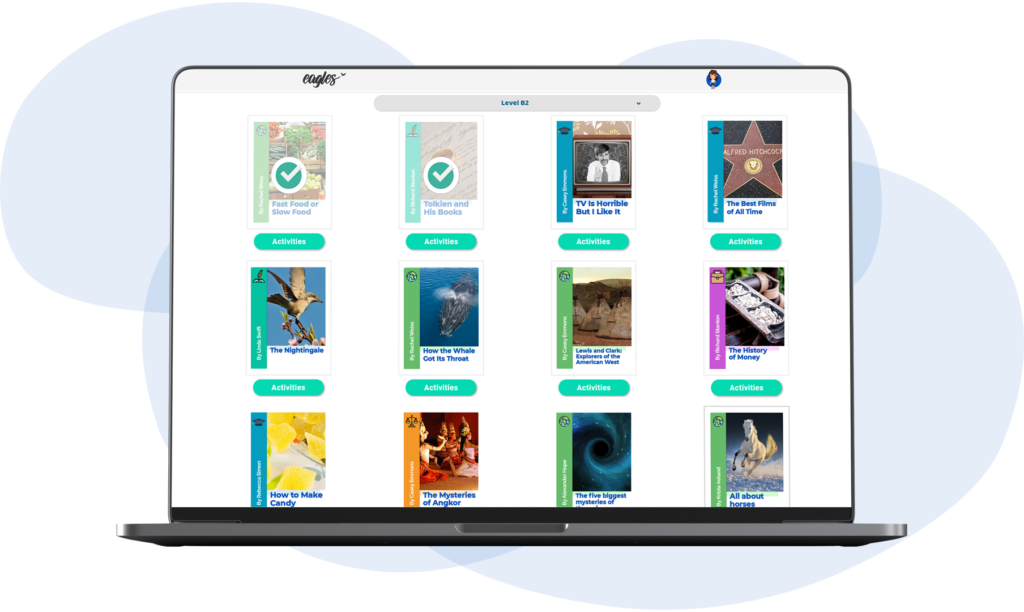 La biblioteca digital más completa
Readings and videos in 10 levels of difficulty (A2 to C2+). Students usually complete one level per year with 30+ readings per level.
Readers include a wide range of subjects like arts, science, business, values, society, literature, famous people, history, future, geography
and more.
More than 60 original unabridged excerpts from the classics of English literature.
The readings range between 1,500 and 3,000 words. Reading time varies from 10 minutes in A2 to 25 minutes
for C1/C2.
Native audio in multiple accents and karaoke-style highlighting help follow the reading, and improve listening comprehension
Use the built-in dictionary to check the definition of any word. The definition, translation and pronunciation of every word is available
Reading length, grammar structures and vocabulary have been carefully edited by expert English teachers to match students' competence
5 exercises per content piece help the student to work with the reading: 2 reading comprehension exercises, 2 Use of English vocabulary and grammar activities and 1 writing task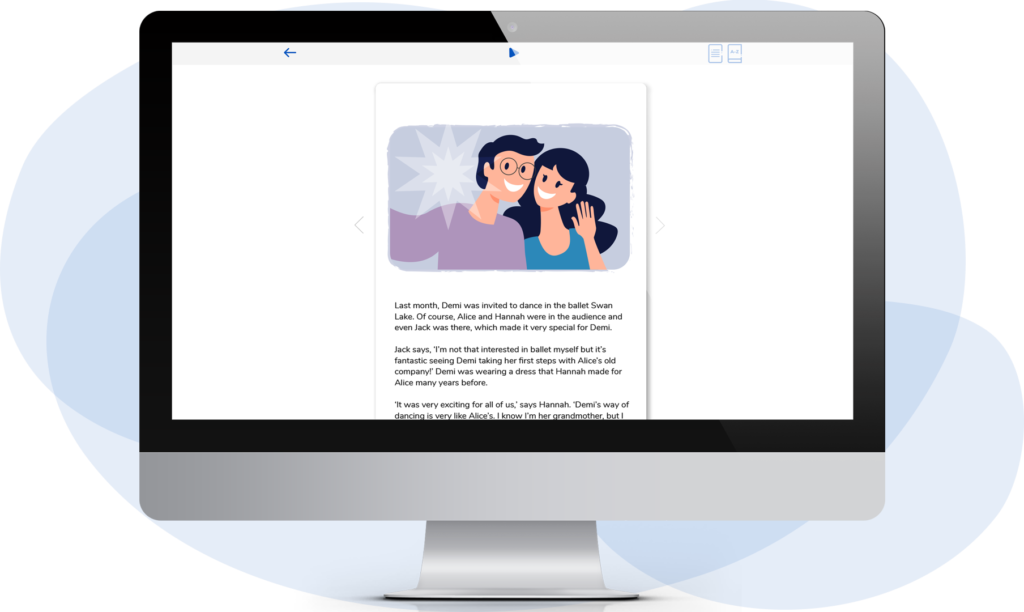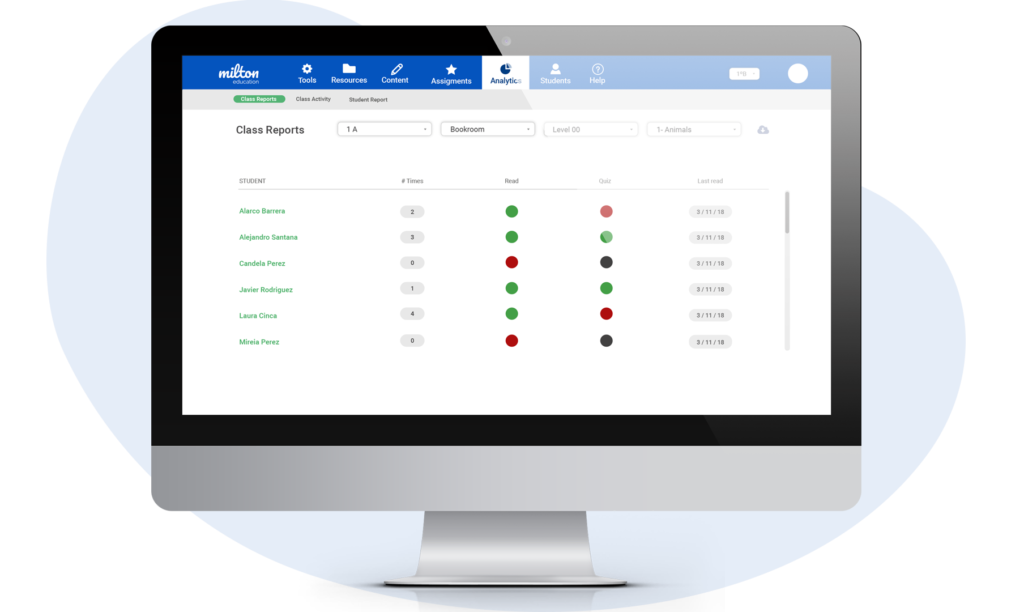 Panel de Profesor: Gestión y trazabilidad de tus alumnos
Analytics: Detailed reports of each student provide the teacher with invaluable information to track progress and detect learning blocks.
Student management: Personalise each student's level, creating a much more effective learning experience for each and every one of them.
Panel de profesor: Todos los recursos necesarios para el docente
Create your own resources: You can write or upload your own content: links to videos or websites, create your own quizzes… Use your own digital content with your students, and share it with other teachers in your school
Access to full Resource Bank: A powerful search engine of 7,000+ grammar, vocabulary and use of English resources will let you meet your teaching needs at any time
Printable materials: Most of the materials in the platform can be exported as worksheets and printed for your students to use in class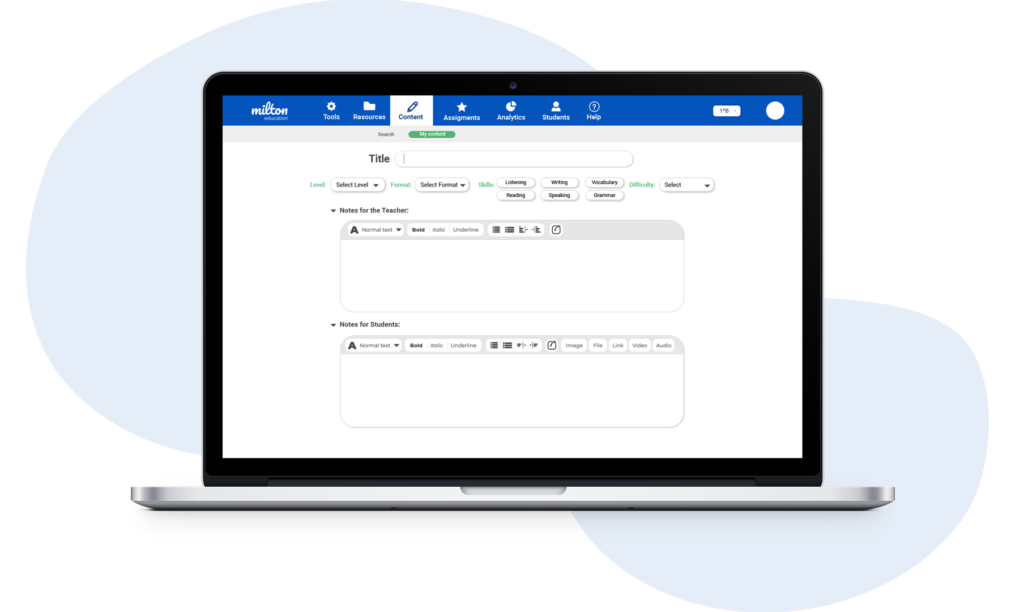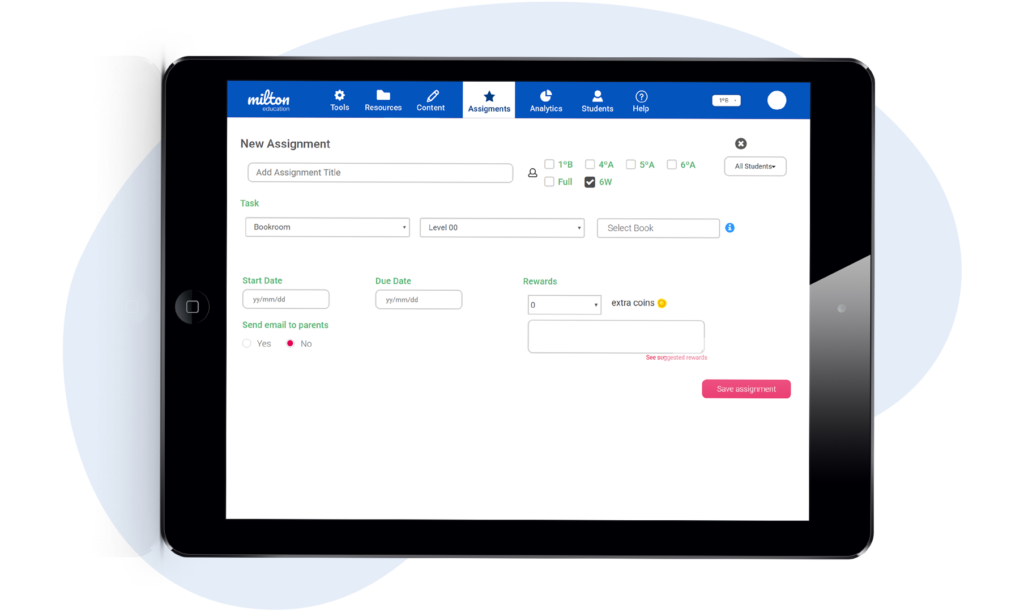 Panel de profesor: Crea tareas y planes de lectura personalizados
Assignments: Individual or group assignments can be created in seconds allowing the teacher to manage the class on autopilot. Reading plans, practice plans.. you name it… we have got it.
Students can see their pending assignments when they log into Eagles, and all the tasks are tracked to give teachers all the information required to track each student
La mejor formación y soporte de Milton Education
Initial training and set-up: A 2-hour initial training on the methodology, the class dynamics and the use of the resources get the teachers going in no time. We take care of the creation of licenses for both teachers and students
Full training videos: Videos of every section guide the teacher through the functionalities and resources available
Zero-trouble platform: Our technology and web platform is highly reliable and works seamlessly in any computer and browser. No blackouts, no errors…
Responsive email support: Fast email support for your queries, suggestions and ideas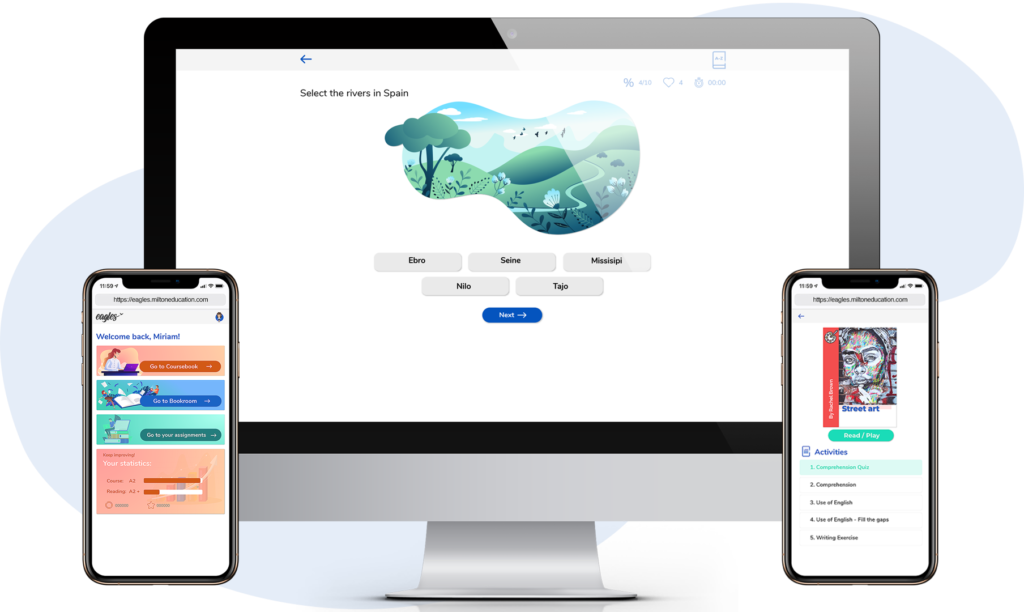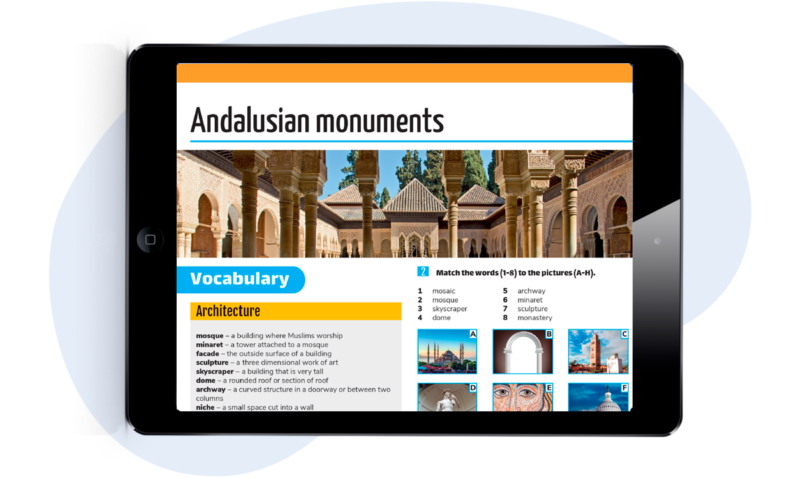 Unidades extra de contenido cultural
Each eagles Coursebook also offers extra units of regional cultural content, with specific topics that can be downloaded in the Teacher panel.